Tables for companies with taste
Tables are amongst the most diverse items of furniture for the food service industry which are highly regarded by hotels and companies. We produce our professional furniture in various styles and for a wide variety of requirements. Durability and stability are important quality characteristics. Whether it is for a restaurant, a bar, a café, a conference room or a terrace, we offer you a comprehensive selection of tables in different materials and colours. Many of our tables satisfy special requirements. For example, we produce height-adjustable, stackable, folding and swivelling furniture for outdoor and indoor use. Thanks to many years of collaboration with designers from throughout the world, the range of tables is constantly being adapted to the latest trends and safety regulations and extended. At GO IN, you will receive the best possible choice for your premises!
Bar tables for a relaxed atmosphere
Whether it is for the reception or for a cool bar area, bar tables are practical aids when it comes to space-saving options for short waiting times. They allow your guests to arrive in peace and, for example, to drink a welcome glass of chilled sparkling wine. Tables for the food service industry must be functional and flexible in their use. GO IN's bar tables can be put together as you wish thanks to the modular system and they can be taken down or set up quickly, using the practical tilting mechanism. With a simple cover, you can transform a simple bar table into an elegant table which is suitable for festive occasions.
Outdoor tables – off outdoors!
When the first rays of sun appear, there is nothing better than sitting outside in the fresh air and experiencing the reawakening of nature. With GO IN's flexible tables for the food service industry, you are equipped for a sudden start to spring.
The tables for the outdoor area are set up in just a few steps and invite your guests to take a cosy little break. Even on an uneven surface, such as cobblestones or grass, you no longer have to worry about the set-up options. We will provide you with the solution for any wobbly table leg! Any unevenness in the ground is balanced out by the innovative FLAT technology. Hydraulic floor glides make it possible for any table leg to be individually adjusted to the relevant ground conditions. The table tops can be aligned to one another evenly and uniformly with the help of GO IN's levelling and stabilisation technology. This enables you to create a harmonious overall image for our outdoor area and to lure out the sun.
Indoor tables with a personal flair
Tables for the food service industry help you to achieve an individual look indoors, in particular. Show off the tables which you have created yourself with your own combination of fabrics, materials and shapes, and give your room a unique charm which will remain in your guests' memory for a long time. To help you to choose the right colour, we give you the option of receiving material samples. This allows you to determine, on your own premises, whether all the materials chosen by you correspond to your interior design ideas and go with one another. 
Let the show begin! Take a look in our showrooms!
Be inspired by our professionally designed showrooms in Landsberg am Lech, Paris and Vienna. There, you will find a number of stylish tables for food service establishments which will enhance any room and invite guests and customers to linger. Pick up helpful ideas and let many different impressions sink in. Discover the apparently infinite options for designing the hospitality furniture for your establishment and combining it with different materials.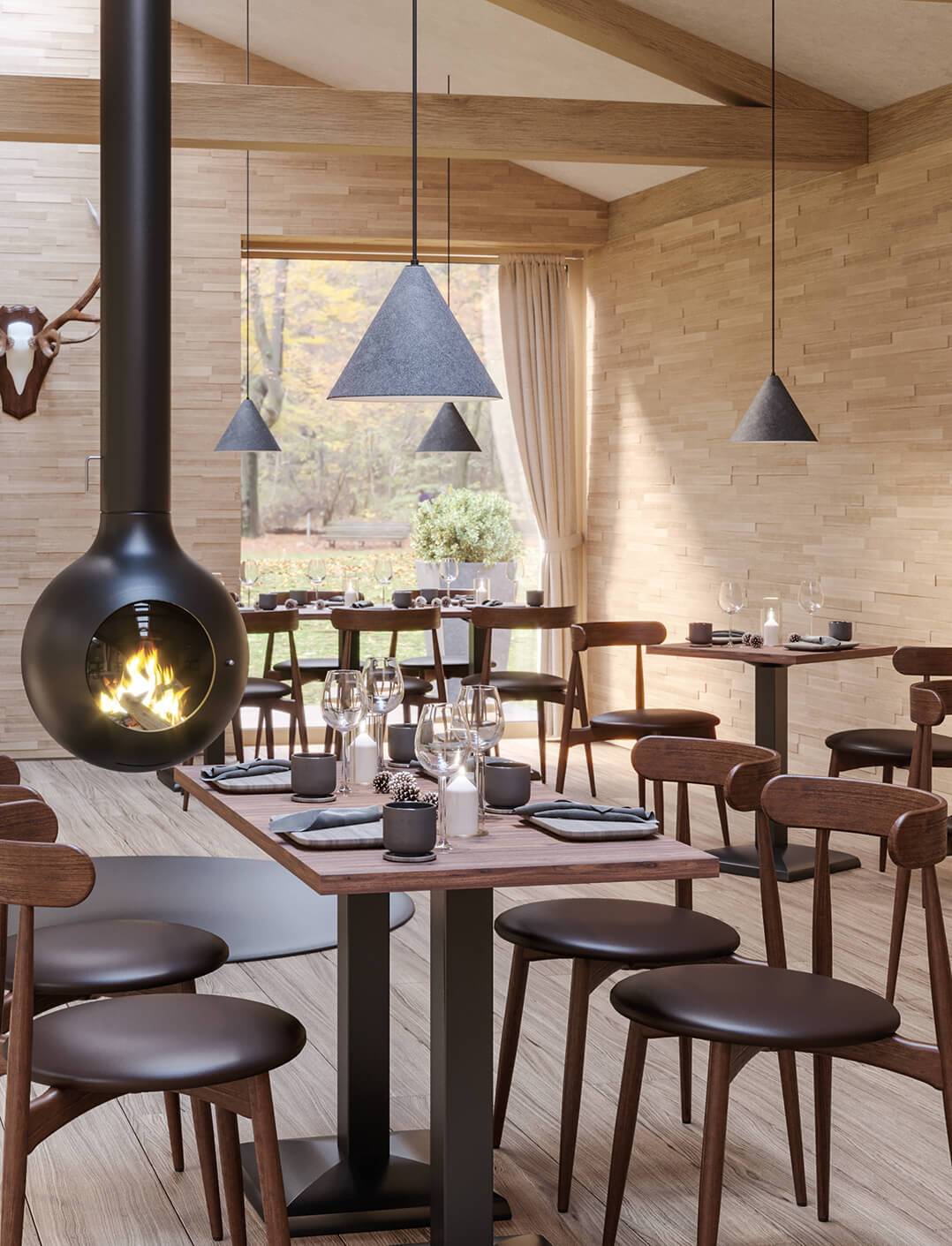 We are service partner