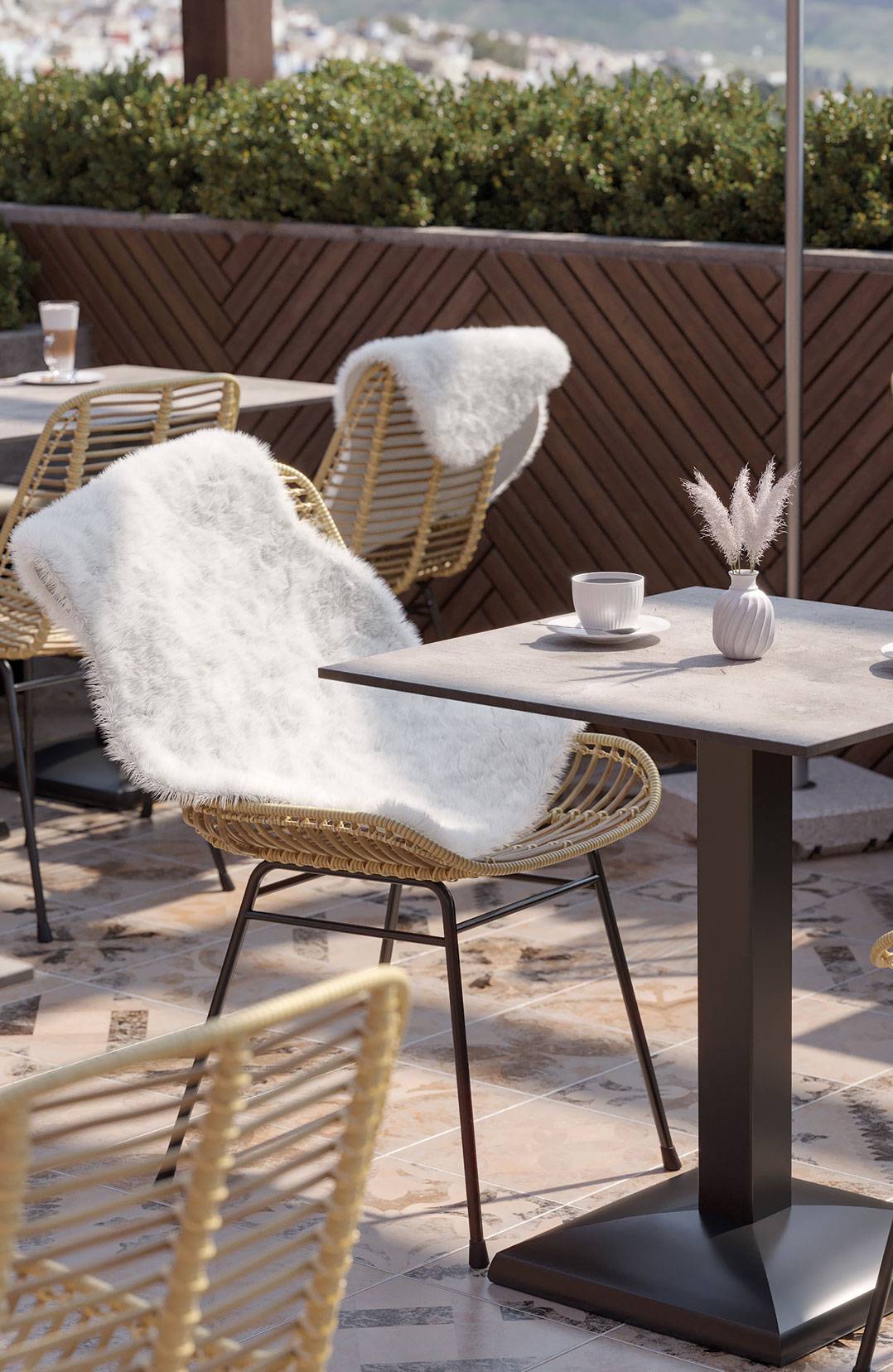 Accessories for outdoor furniture for the food service industry and hotels – we've got what you need
An attractive outdoor area includes not only exclusive and stylish furniture, but also the right maintenance and equipment. At GO IN, you will find everything that you need for a well-kept outdoor area, from fleecy seat cushions and blankets to helpful spare parts.
Furniture accessories – seat cushions, blankets etc.
Comfortable furniture is not everything – make your guests comfortable. At GO IN, you will find accessories for your outdoor furniture. Design customised seat cushions to go with your outdoor furniture, for example. Simply choose the colour and the cover material and match it to your outdoor area. Fleecy blankets also help to create a cosy ambience on cooler evenings. For the warmer hours in the day, sunshades attract guests by providing them with welcome shade and helping them to withstand the heat with the help of a cool drink. Make things easier for yourself with the practical chair trolley, which can not only transport stacked chairs without any problems, but can also bring the sunshades to the right position. When winter is approaching and the outdoor chairs need to be put away for the winter, the weather protection cover helps you to give them a dry and dust-free break. Simply pull it over the stack and attach it at the bottom – and that's it! This means that you do not need to waste time on dusting and cleaning the chairs when the first enticing rays of sunshine appear. Simply remove the protective cover, and the chairs are ready to set up!
The correct maintenance is important! Care products for outdoor furniture
Under accessories for outdoor furniture, you will also find high-quality care products for your outdoor furniture. Enjoy a high-quality and stylish outdoor area for a long time.
The use of care oil is recommended for wooden furniture, in particular. It serves for surface finishing and prevents the colour of the wood from fading prematurely. If you have chosen our innovative Resysta furniture and a scratch appears, you can simply cover it up with a care glaze and refresh the colour.
This will make the colour as good as new. For the care of glass surfaces, such as glass table tops, the GO IN cleaning set means that you no longer have to re-polish troublesome marks. The set is suitable for plastic, imitation leather and glass surfaces. The troublesome dirt is removed with one wipe. If it rains more than anticipated in the "outdoor season", the impregnating set will act as protection for all outdoor materials.
Screw loose? No problem with our spare parts
Be properly equipped – the accessories for outdoor furniture leave nothing to be desired. With a steel ring and steel cable, you are protected against any theft and no longer have to worry about your furniture. At GO IN, you also have the option of equipping your tables with the practical tilting mechanism. In just one movement, the table can be folded up and stacked on its side without any problems.
In order to be able to transport the sunshades with the chair trolley, you need a small lifting ring. This is simply attached to the sunshade stand and thus provides a small lifting point for the trolley. Be equipped for any eventuality with the accessories for outdoor furniture.
We are service partner