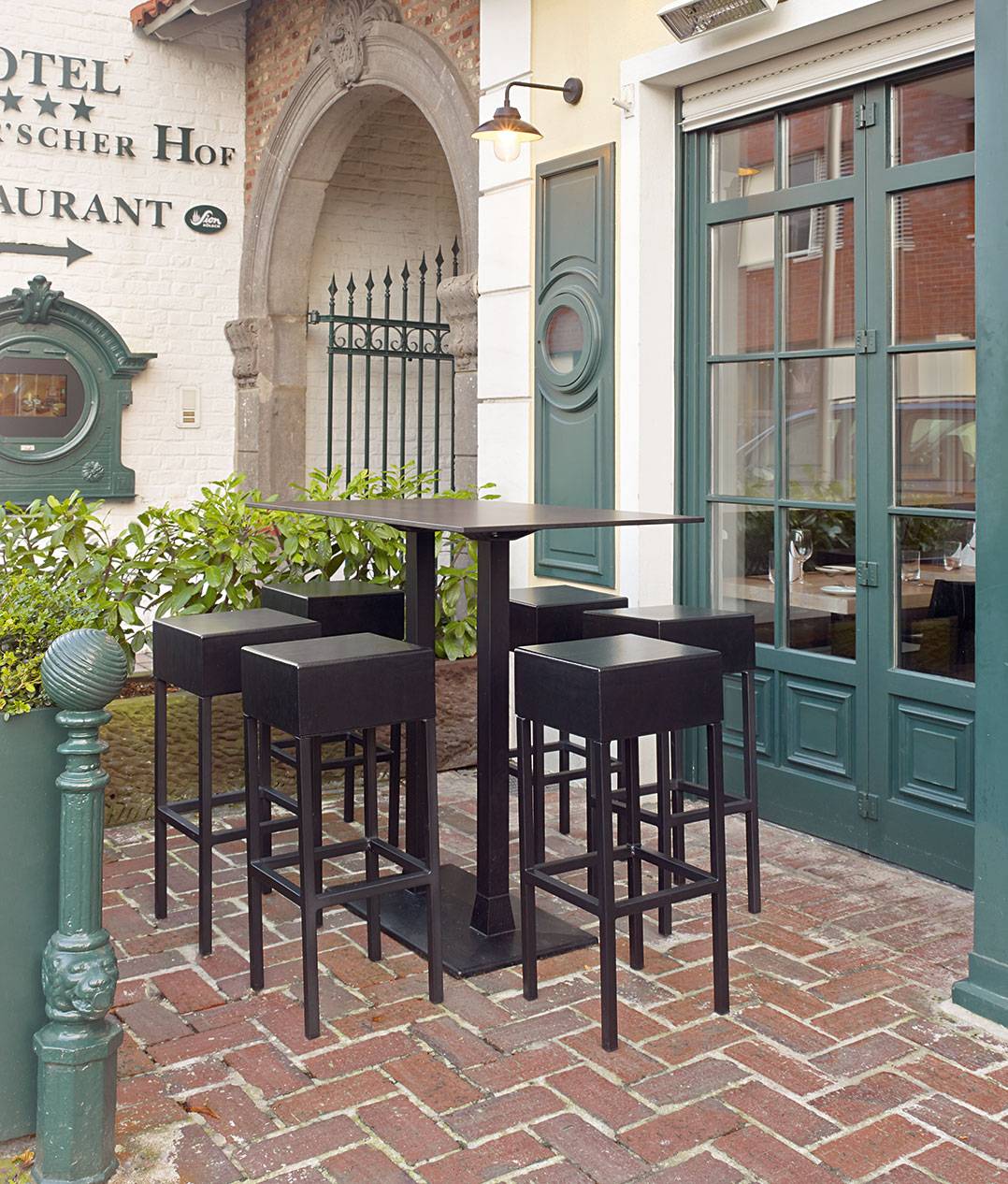 Outdoor stools and bar stools for the food service industry – versatile sitting comfort
Outdoor areas for the food service industry and bars are popular and attract a lot of guests as soon as the sun begins to shine. Create an outdoor area which not only invites people to sunbathe, but also exudes a relaxed atmosphere. Bar stools provide a casual sitting option which promises not only a good seat, but also a good view.
Outdoor bar stools for all weathers
Why not open an outdoor bar? With the right furniture, the weather should become a secondary issue. Functionality and a modern design are combined here. Stylish stools are indispensable in trendy bars – including outdoors! GO IN's outdoor bar stools can be made from a variety of materials. For example, a wickerwork chair with a higher seat and a comfortable back rest is a popular seating option. The delicate wickerwork creates an atmosphere of timeless elegance and is robust and weather-resistant at the same time. With regard to the materials used for our outdoor furniture, we pay particular attention to a high quality which promises a long service life. Resistance against UV radiation, cold and heat, water repellency and a high level of resilience are aspects which count and which are made possible by high-quality furniture in the open air.
Enjoy the luxury of not having to take your chairs inside immediately as soon as it starts to rain a little. Your terrace can be used all year round, whether it's for refreshing cocktails in the summer or with fleecy blankets and a warming mug of mulled wine in the winter.
Modular system for individualists
An outdoor bar stool is also suitable for smaller sitting areas which spread a cosy ambience and, at the same time, invite guests to linger. Become a designer of your own outdoor furniture thanks to our simple modular system. With just a few clicks, you can use the online configurator to create your outdoor stools and bar stools. Simply select your desired material and put together the various components. Is it to be a bar stool with a back rest or is a seat cushion to be integrated? Specify the colour and the chair model and create a harmonious overall concept with the right choice of table. Due to the different heights, bar stools and stools in the outdoor area can be optimally combined with one another. You can also adapt the outdoor tables according to your own ideas and thus create a harmonious table and chair combination.
We are service partner