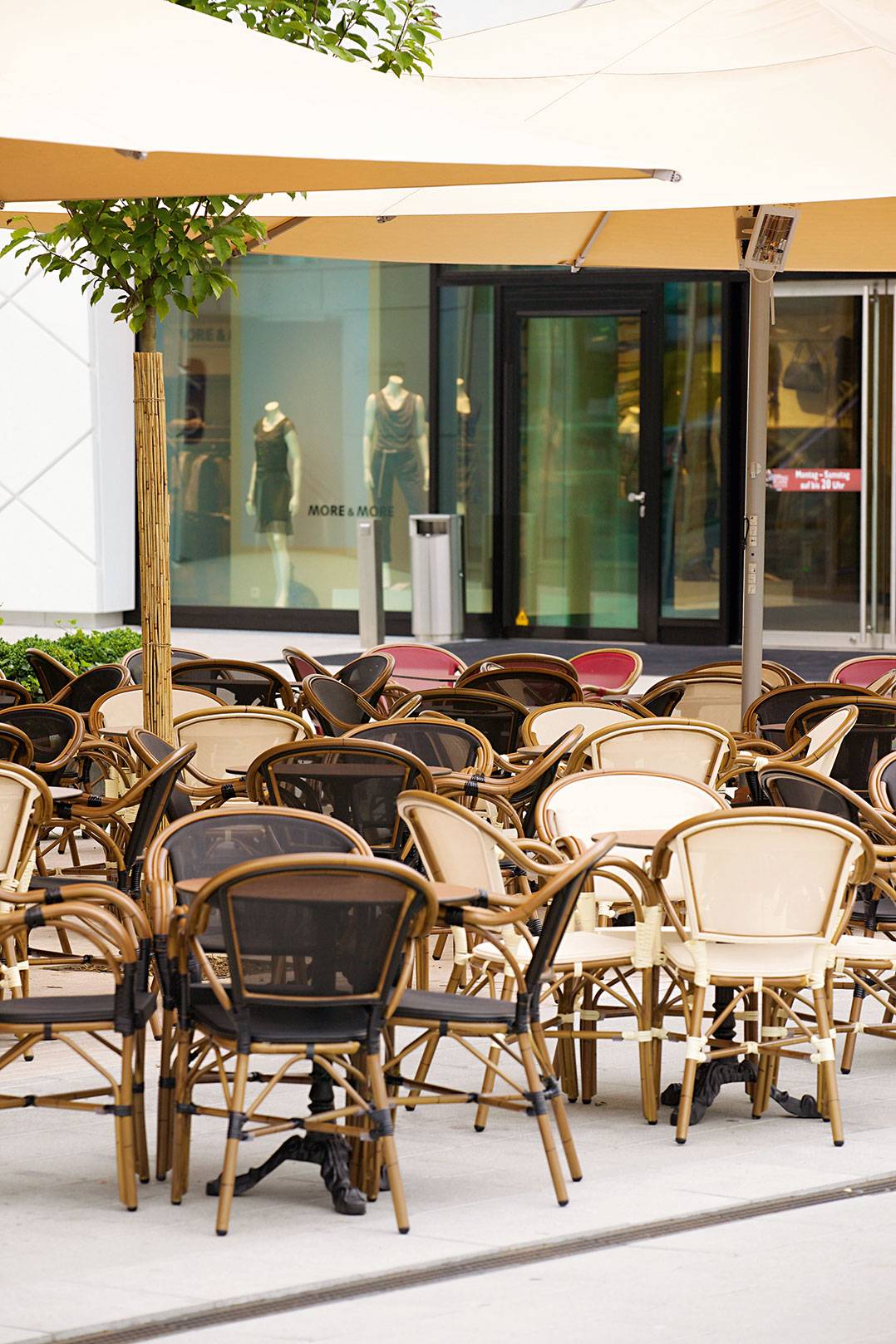 Woven chairs for the food service industry and hotels – this is how you create comfort
Choose a stylish version for the image of your outdoor area. Woven chairs can be made from different materials and impress with a unique look and a great seating comfort. Chairs with a woven seat provide a high level of comfort. With GO IN, design woven chairs according to your taste and choose a harmonious table-chair combination for your outdoor area.
Which chair will it be?
Consider a coherent concept for your outdoor area. Depending on the purpose and circumstances, there are many furniture models which are suitable for use outdoors. Woven chairs with comfortable cushions are a flexible companion throughout the daily routine of your food service establishment. Make your terrace into a little place of relaxation. The woven fabric consists of technical polyester fabric and proves to be particularly easy to maintain. You would like to provide your guests with a casual South Pacific atmosphere? Then folding woven chairs with a classic director's chair look may be just what you are looking for. These can be set up and taken down quickly. Transform your outdoor area into a Provençal summer terrace with a harmonious combination of materials. With good wine and sunshine, your guests are left with nothing to be desired! Woven chairs with a stainless steel frame do not have to appear cool. When these are used in combination with a table which consists of a wooden table top and matching stainless steel legs, you can easily create a harmonious overall image.
Functional properties of the woven chairs
In addition to an attractive design, comfort, quality and functionality are important aspects for furniture. GO IN shows a lot of sensitivity when it comes to the needs of restaurateurs and hoteliers.
Therefore, functionality is a very high priority. Our woven chairs can be stacked very easily or have a folding option. This allows you to be flexible, depending on the start of the season, and to effortlessly set chairs up and take them down according to the weather conditions. You do not need much space for storage and you can leave the outdoor furniture outside in any weather without worrying about it. The high-quality materials are UV and weather-resistant.
Express delivery – if things need to happen quickly
Our regular delivery time in Germany is normally 3 working days for stock goods. If the first rays of sun appear sooner than anticipated and the warm weather entices everyone outside, things sometimes simply have to happen more quickly. With our express delivery service, the ordered goods will reach you within 2 days. If we are delivering to Austria, we need 3 days, and delivery to France or Switzerland takes 4 days. You can look forward to a fast and uncomplicated processing of your order and concentrate fully on designing your outdoor area.
We are service partner