Supposedly, the term "bistro" comes from the Russian word for "fast. But bistros have long since come to stand for more than just fast food - on the contrary! Bistros are the epitome of coziness, of casual ease and family atmosphere. Bistros stand for savoir-vivre and are the exact opposite of impersonal large-scale gastronomy. Those who run a bistro care about their guests and cook with joy and passion. People who visit a bistro appreciate the flair just as much as the cuisine. They are happy to be known by name. Anyone who decides to visit a bistro does so consciously. But of course you know that. As a bistro operator, you know your guests and they know you! Professional, familiar, individual - that is your gastronomy. We help you find furniture that suits you and your needs. GO IN offers customizable bistro furniture for outdoor use: as unique as your bistro!
Individuals Flair
Bistros are small restaurants with great charm. At a time when everything seems to be getting busier and bigger, many workers spend time out at the bistro during their lunch break. The typical bistro dishes are quickly prepared: Sandwiches, pasta, fresh salads. The cuisine is usually light and fits the casual flair that is so typical of bistros. This flair is of course also reflected in the furniture, both indoors and outdoors, where the individual touch is never missing.
Bistro furniture for every taste
Bistro furniture for outdoor use must be weatherproof and particularly durable. At GO IN you get outdoor furniture of the highest quality at an attractive price and in an individual design. Whether bistro table or chairs: our furniture will make your guests feel summer! Who doesn't love to sit in front of their favorite little pub on balmy summer evenings with a cool drink and toast the end of the day with their friends? Especially when the chairs are so comfortable that you don't even want to get up! Modern and elegant is the armchair Tom. The silver aluminum frame and the anthracite-colored seat and backrest create a tasteful overall look and can be spiced up with the comfortable seat cushion Camila in numerous summery colors. Or would you prefer something a little more dreamy? A classic among our outdoor bistro furniture is the Brasserie chair Marco. Not only is its design timeless, its rattan-look nylon fabric is very durable and the powder-coated aluminum frame makes it easy to transport and stack. You can find even more outdoor chairs here.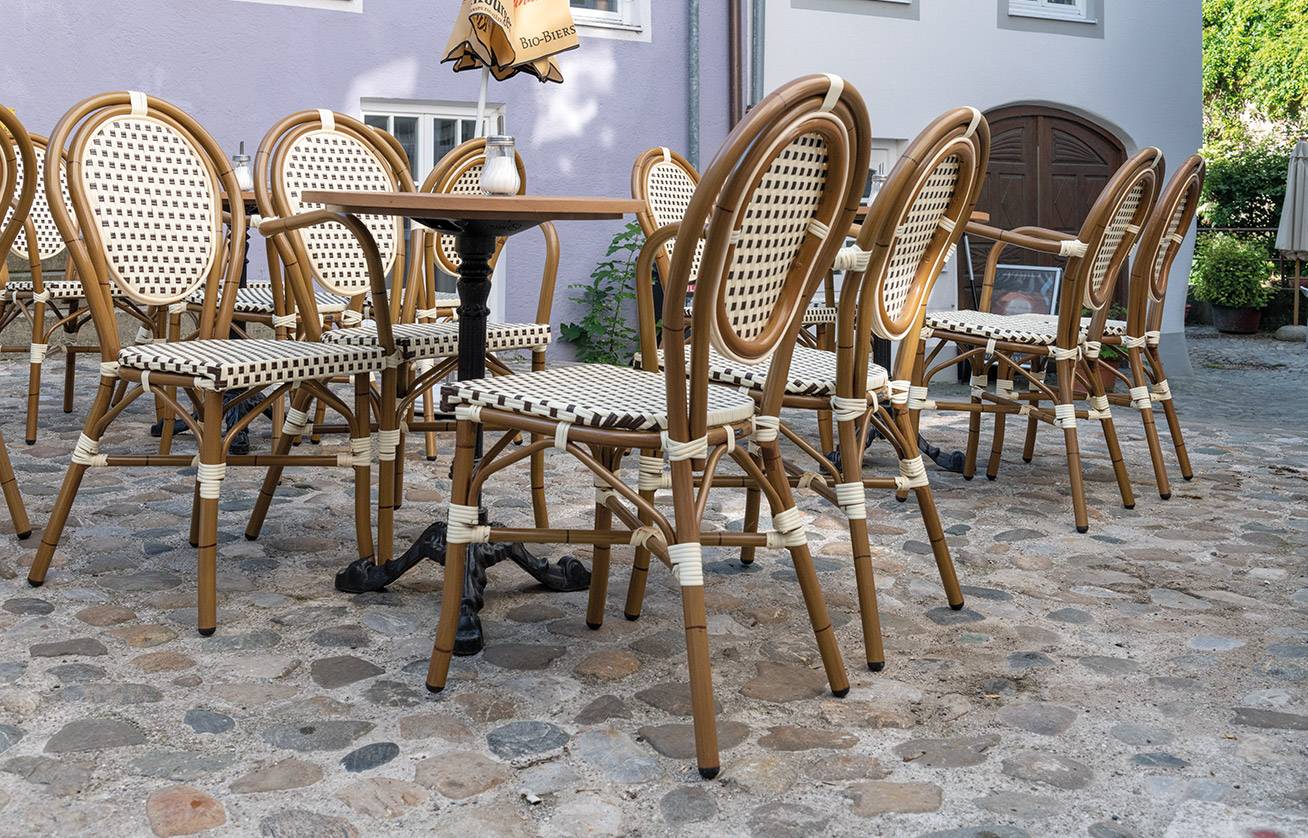 Outdoor and patio furniture is designed to withstand a wide variety of weather conditions. Temperature fluctuations, sunlight and rain are thus no problem. Powder-coated steel and aluminum are robust and do not rust. Pre-treated solid wood is weather-resistant, easy to clean and provides a pleasant ambience. For example, our Chair Vigo Robinia wood is a timeless classic among outdoor furniture. French bistro furniture is characterized by its rattan look: Thereby artificial wicker is visually indistinguishable from real rattan, but more durable compared to it. You can achieve a modern flair with furniture made of fiberglass-reinforced polypropylene, such as the chair Emilia. A special eye-catcher made of this high-quality material is the outdoor sofa Ember from our range. The Bistro folding tables from GO IN are both sturdy and practical. They can be stacked side by side and are particularly suitable if you plan to put the furniture away every day after work.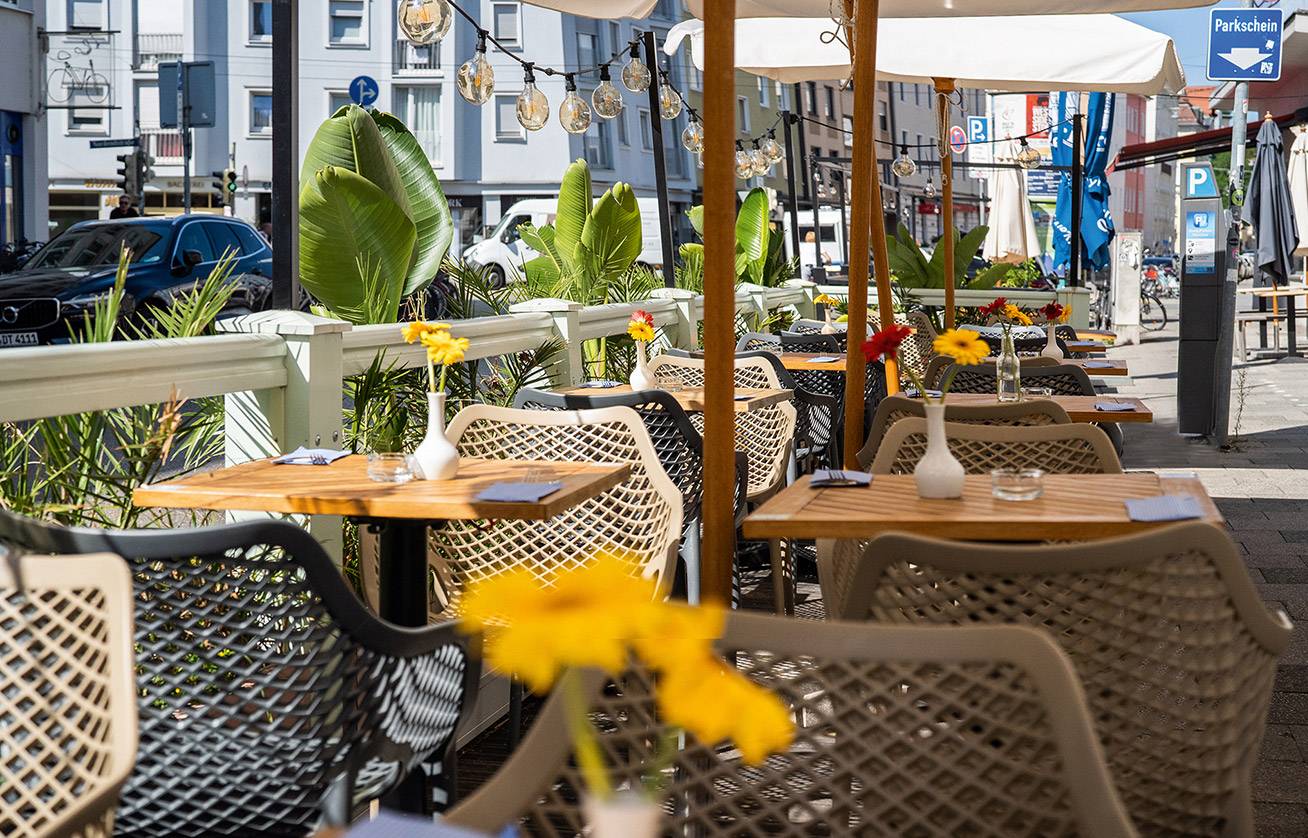 Individual bistro furniture for outdoor use from GO IN
Your regulars appreciate your cuisine, your service, your flair: Your gastronomy is unique, your bistro furniture should be too!
With our product configurator you can individually compose and customize your bistro furniture. In addition, you will find a large selection of outdoor accessories, such as seat cushions or parasols suitable for your style. For rainy days we prepare you of course: Bistro tables and matching chairs for indoor use can be found on our homepage.
Your personalized equipment is usually ready for shipment 24 hours after receipt of order and can be easily assembled by our assembly service.
We are service partner