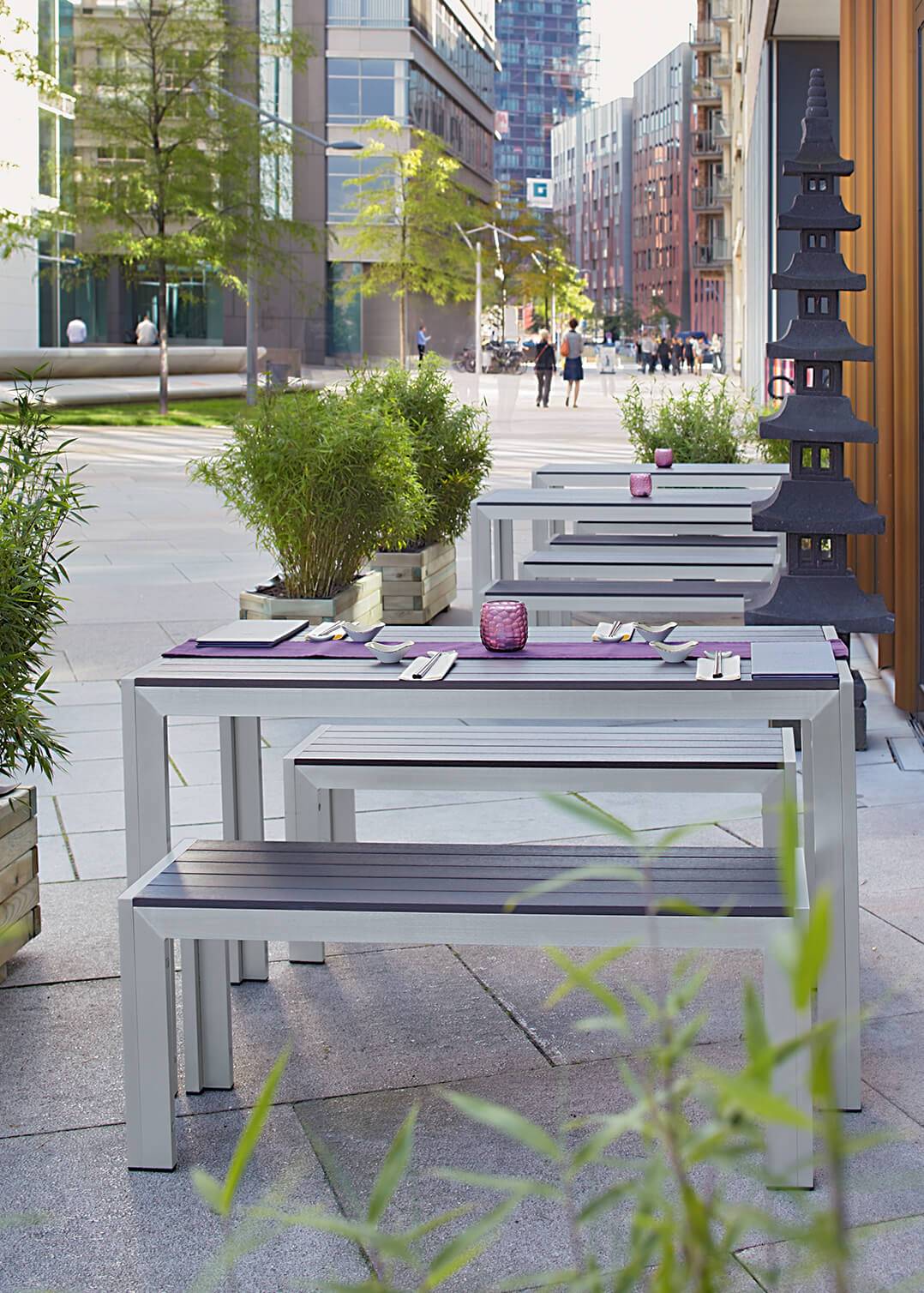 Table and bench combinations for the food service industry – cosy charm combined with a space-saving design option
Provide your outdoor area with an extra bit of cosiness. Larger groups can sit together in comfort with a table and bench combination. Get the beer garden feeling with outdoor furniture which you have put together yourself and which fits perfectly into your outdoor area.
Table and bench combinations – functional, robust, space-saving
When it is time to go outside again, your outdoor area should attract your guests outside with attractive seating options in a trendy look. At GO IN, you can find harmonious bench and table combinations which you can furnish with your individual touch. Equip the benches with colourful seat cushions and invite your guests to linger. Unlike with normal table and chair combinations, several people can sit on benches and a casual atmosphere is instantly created. Therefore, there is nothing standing in the way of a pleasant get together. In smaller outdoor areas, in particular, you have the option of accommodating more people without there being unpleasant space restrictions for the guests. The flexible arrangement of the tables and benches gives you unlimited opportunities for creating long tables outdoors.
Resysta – the better wood
Why choose wood when there is an alternative? With Resysta, you can get a little closer to the future. The innovative hybrid material is not only environmentally friendly and sustainable, but also impresses due to its high level of robustness.
Resysta is made from approx. 60 % rice husks, approx. 22 % rock salt and approx. 18 % mineral oil. This means that the material is 100 % recyclable and no trees have to be cut down to make high-quality outdoor furniture. Whether it's sun, rain, snow or salt water, Resysta furniture is equipped to deal with all weather conditions and impresses with its easy maintenance. So don't worry about the next rain shower. At first glance, the material cannot be distinguished from real wooden furniture. The convincing wooden look creates a warm and cosy ambience, but it does not share the properties of wood. It does not swell up with a lot of moisture, fade over time, splinter or tear. Enjoy extremely durable outdoor furniture which is even suitable for use in a wellness and swimming pool area. Create a harmonious outdoor area which will become one with nature with the help of the furniture.
Show time!
To give your creativity a little push, GO IN offers inspirational showrooms which are guaranteed to give you one or two design ideas. Immerse yourself in a world full of possibilities with the furniture which has been put together by you. You can find our showrooms in Landsberg am Lech, Paris and Vienna. Get ideas for a variety of design options and create a special kind of outdoor area. It is not only outdoor furniture that awaits you, but also harmoniously designed table and chair combinations for your indoor area. Create a connection between your indoor and outdoor areas! Discover the varied design options for your outdoor area with table and bench combinations, which save space and are trendy at the same time. 
We are service partner