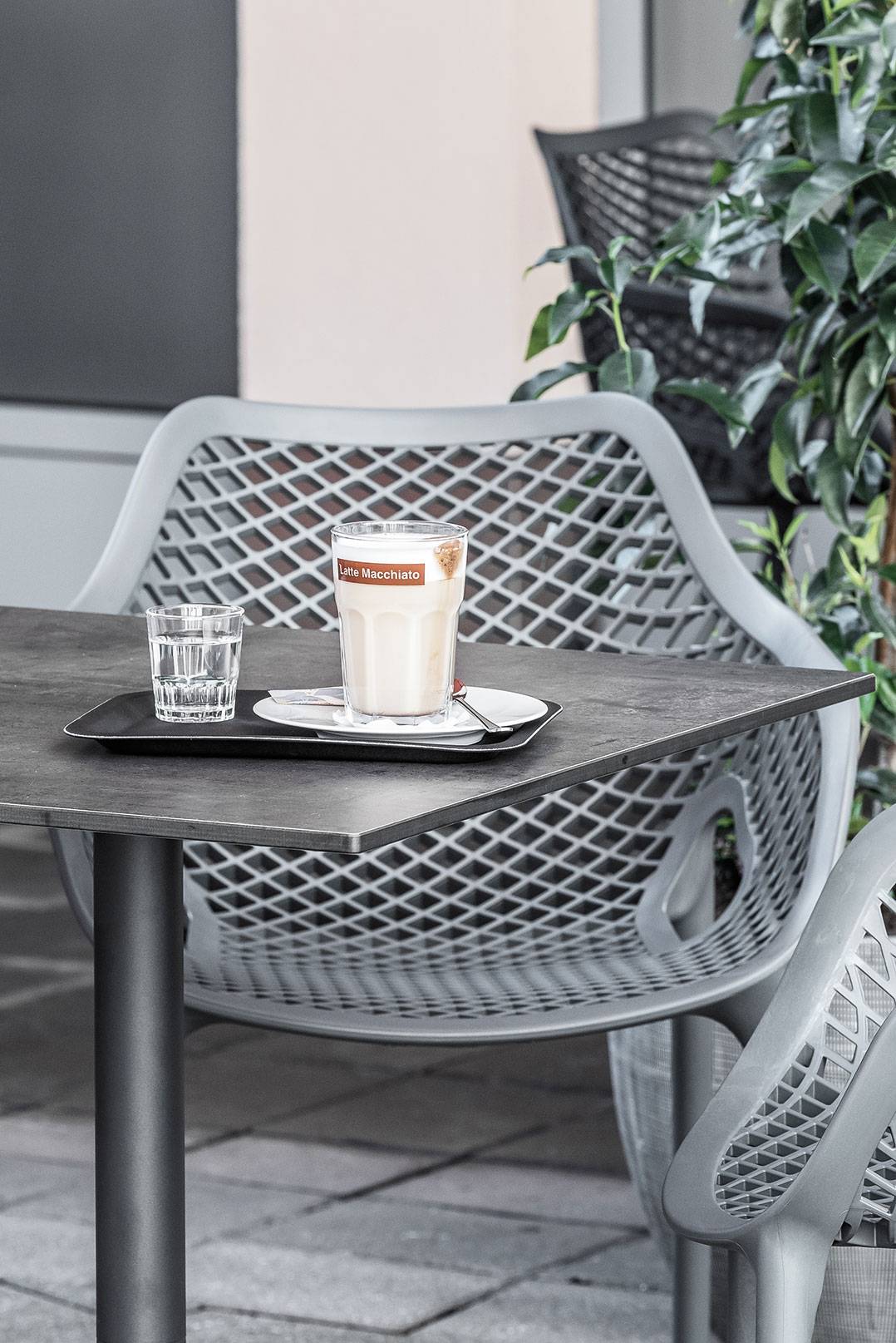 Weather-resistant table tops for the food service industry and hotels – combinable and trendy
Food should be a feast for the eyes too – a table top is not merely a place to put things. It lends charm to chair and table combinations and can skilfully provide accents in the seating area with striking colours. With GO IN, you will also find table tops which are suitable for use outdoors and can be combined with your current table bases without any problems.
Turning old into new! Weather-resistant table tops from GO IN
Why buy a completely new table when there is nothing wrong with the table base? Give your outdoor area a completely new look with weather-resistant table tops! Whether you use a simple, but elegant glass table top or a rustic teak table top, you are choosing a style which goes with your furnishings. Attract attention from afar. Bright colours are clearly visible and provide a fresh and casual atmosphere.
Table tops with an individual touch
Use our configurator to design table tops for terraces and other outdoor areas. Thanks to the modular system, you can combine all the table tops and table legs with one another. Create accents with a modern mix of styles and combine wood with metal. This allows you to conjure up a wide variety of styles. Express yourself through the furniture which you have put together yourself, giving your indoor and outdoor area a very personal charm. With the help of our configurator, you can select a weather-resistant table top and a base from the comfort of your home. Whether they are round or rectangular, small or large, four-legged tables, folding tables or column tables, you adjust your outdoor tables to the conditions in your outdoor area and not the other way around! The table tops for the outdoor area are available in the following materials:
Laminate

Safety glass

Eucalyptus wood

Keruing

Teak

Resysta
Enjoy high-quality materials which can withstand any weather conditions. The weather-resistant table tops are resistant to UV radiation, cold and heat and are, of course, water-repellent. Do not worry about the weather!
Resysta – and the forests can breathe
It does not always have to be natural wood to create a rustic ambience. The patented hybrid material Resysta can hardly be distinguished from a normal teak wood table. This material entails innovative properties. Resysta comprises rice husks, stone salt and mineral oil. This formula for the future ensures that no trees have to be cut down to produce high-quality outdoor furniture. Although the hybrid material is 100 % recyclable, it is a 100 % robust and weather-resistant material.
The furniture withstands UV radiation, rain, snow or salt water. Another advantage of Resysta is that it is easy to maintain. Unlike wooden table tops and furniture, the material does not have to be regularly treated with nourishing and impregnating oils or dyes, in order to be able to resist the weather in the long term. It neither swells up as a result of too much moisture nor tears or splinters when a lot of force is exerted on it. The colour does not fade after an extended use. The table can be cleaned in an instant with a damp cloth and impresses with its natural look. Rely on sustainability and enjoy the simplicity of the material.
Stock goods immediately ready for dispatch
The opening is in just a few days and your outdoor area is not yet furnished? This is not a problem for us – our weather-resistant table tops are ready for dispatch within one working day! Within Germany, the normal delivery period is approx. 3 working days. If you are in a hurry, we can send you the goods within 2 working days with our express dispatch service. Another option is to collect the goods up yourself directly from the main office in Landsberg am Lech. This is possible directly after the receipt of payment. Make something special out of your tables – with weather resistant tables, you are equipped for any weather!
We are service partner