GO IN makes you unique
You are looking for furniture which appears to be made for you? GO IN is characterised by a wide range of products which can be customised and thus satisfies the requirements of every customer. The professional furniture can be used in the food service industry and the hotel sector and impresses with its transformability. GO IN combines 45 years of experience with modern design requirements which are function and, at the same time, emphasise comfort and uniqueness. The company is active throughout Europe and has also operated in Dubai and Jeddah/Saudi Arabia for many years.
The company is characterised by its fast product processing, which includes the immediate delivery of stock goods, its constantly tested quality, its customised design and its B2B price-performance ratio. In 2012, GO IN won the reddot design award for the functional chair Quorum with an outstanding design. The continuous development of design and functionality and the practical modular system, which allows a huge variety of combinations, make customers' wishes come true.
Perfection from the base to the column – design a special kind of stool
After all, anyone can have an 0815 stool. With our online configurator, you can put together a stool or a upholstered barstool with a number of components. The practical modular system awakens your creativity – "13 colours of wood, 150 fabrics, 1 million options!" Choose between
round or square columns

the materials wood or metal

a swivel mechanism or a fixed seat

variable footrest

wooden seat

shell seat

backless or with backrest

seat cushion

cover material and colour
GO IN will help you to achieve stools which fit perfectly into your bar and lounge. Create comfortable seats which provide space at the same time and do not make the guests feel cramped. Do you want a simple cube or a round column with a swivelling stainless steel ornamental top? Be carried away by the variety of options and delight in a stool with your own personal touch.
Fabrics to touch – create the right design with samples
It is often not easy to find the right combinations of materials. We will show you which fabrics and colours show off your style. Choose your favourite fabrics and colours and decide on site, when these fabrics and colours are combined with the rest of your interior design style, how the colours go together and which materials can best be combined. This stops there from being any unexpected surprises when you unpack your stools, allowing you to enjoy a harmonious overall image.
A tough test for a comfortable and secure seat
A GO IN seat must be subjected to a tough test before it can be included in the product range. The stool is tested for its stability, resilience, steadiness and durability. For anyone who can remember a visit to a bar can confirm that furniture in the food service industry has to be particularly robust and stable. It must also be easy to handle for the waiting staff, and moving and stacking it should not present a problem. A special testing machine conducts a simulated pressure test with a so-called compression die. In this test, up to 160 kilograms acts on the stool. As a result of this pressure test, weaknesses in the material may quickly become visible in the form of rips and cracks. The testing cycles vary depending on the type of product and amount to between 100,000 and 150,000 sequences. Therefore, it is possible that the stools may simulate the use of several years in the food service industry within 10 days. At GO IN, you can expect a high level of quality and safety and, at the same time, create a customised design which fits into your premises and events!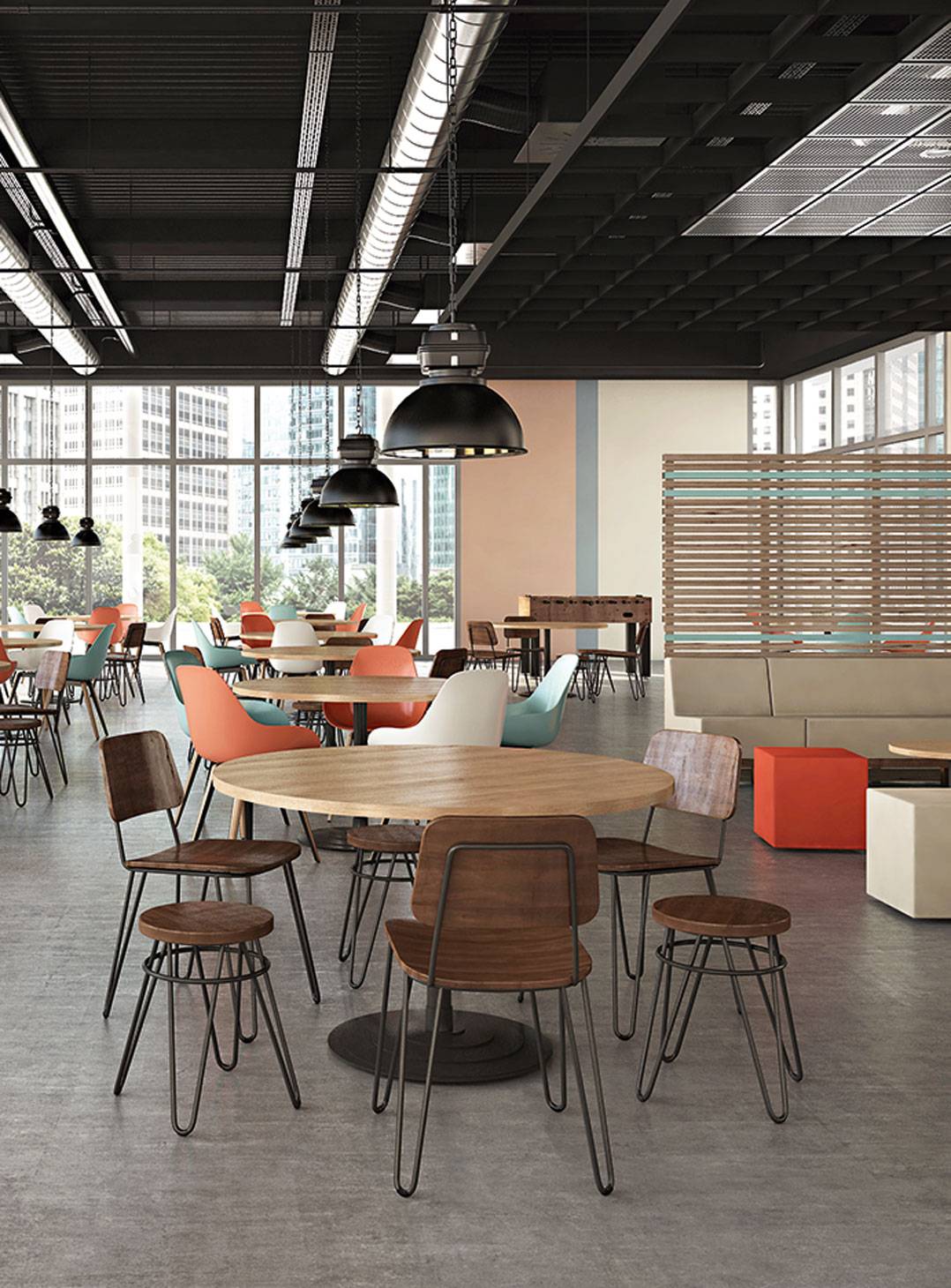 We are service partner