Outdoor high tables for the food service industry and hotels – functionality meets modern design
In the food service industry, things always have to happen quickly when it comes to special events or a larger function. Even small cafés or ice cream parlours in the pedestrian zone have to be flexible on a day-to-day basis and set up and take down high tables quickly. GO IN helps you to create a stylish version of functional tables which can be stacked quickly.
Functionality combined with your individual touch
Functional can be modern and stylish at the same time. Design your outdoor area flexibly and brighten up the ambience with practical high tables which invite guests to linger. The practical modular system helps you to do justice to your individual ideas. It allows you to select the individual components of a table separately and to combine them with one another as you wish. You can use the online configurator to put together most high tables for the outdoor area completely according to your ideas. Choose between high-quality table tops made from materials such as glass, wood, Resysta or laminate and combine these with your desired material as a table column and table base. Thus, you can make simple and boring outdoor high tables into eye-catching features with the help of a smart combination of materials.
Outdoor bar tables with class!
Tables for the outdoor area have to be weather-resistant and must, therefore, be made from a robust material. To get an overview of the properties of the materials, you will find the condition of the article in the product descriptions. The table tops are subdivided into different load classes. With the help of our star rating, you can tell at a glance which advantages the respective table top has. Find out directly whether your selected table top is suitable for your desired area of application.
Particular attention is paid to its scratch resistance, resistance against staining, resistance against cigarette burns and hot wax, impact resistance and thermal resistance. You can rely on a robust table which is equipped to deal with any influences and is thus extremely durable.
Side-stacking outdoor high tables
GO IN tables with a practical tilting mechanism in the table top are particularly suitable for use in places where there is not much space for storage. You can fold the table up compactly in just a few movements and thus stack it in a space-saving manner. This means that you do not have to worry about storage facilities. You do not need large rooms to store the bar tables. The simple handling allows you a high level of flexibility – do not be stressed by a higher number of visitors than anticipated. Additional bar tables are set up in an instant, the guests can comfortably put their drinks down whilst they are standing.
One full service package please!
In just a few clicks of the mouse, you can put your bar table together and place the order. We are not only characterised by fast order processing, but also start our service where others finish theirs. You don't have to worry about anything! We will supply you with the desired number of tables, provide you with a stress-free assembly and then dispose of the packaging material. Our service leaves nothing to be desired!
Especially when you are opening a new establishment, we help things to run smoothly by taking the work related to the furniture off your hands. Make a boring outdoor bar table into something special! With GO IN, you have the opportunity to bring your ideas to life.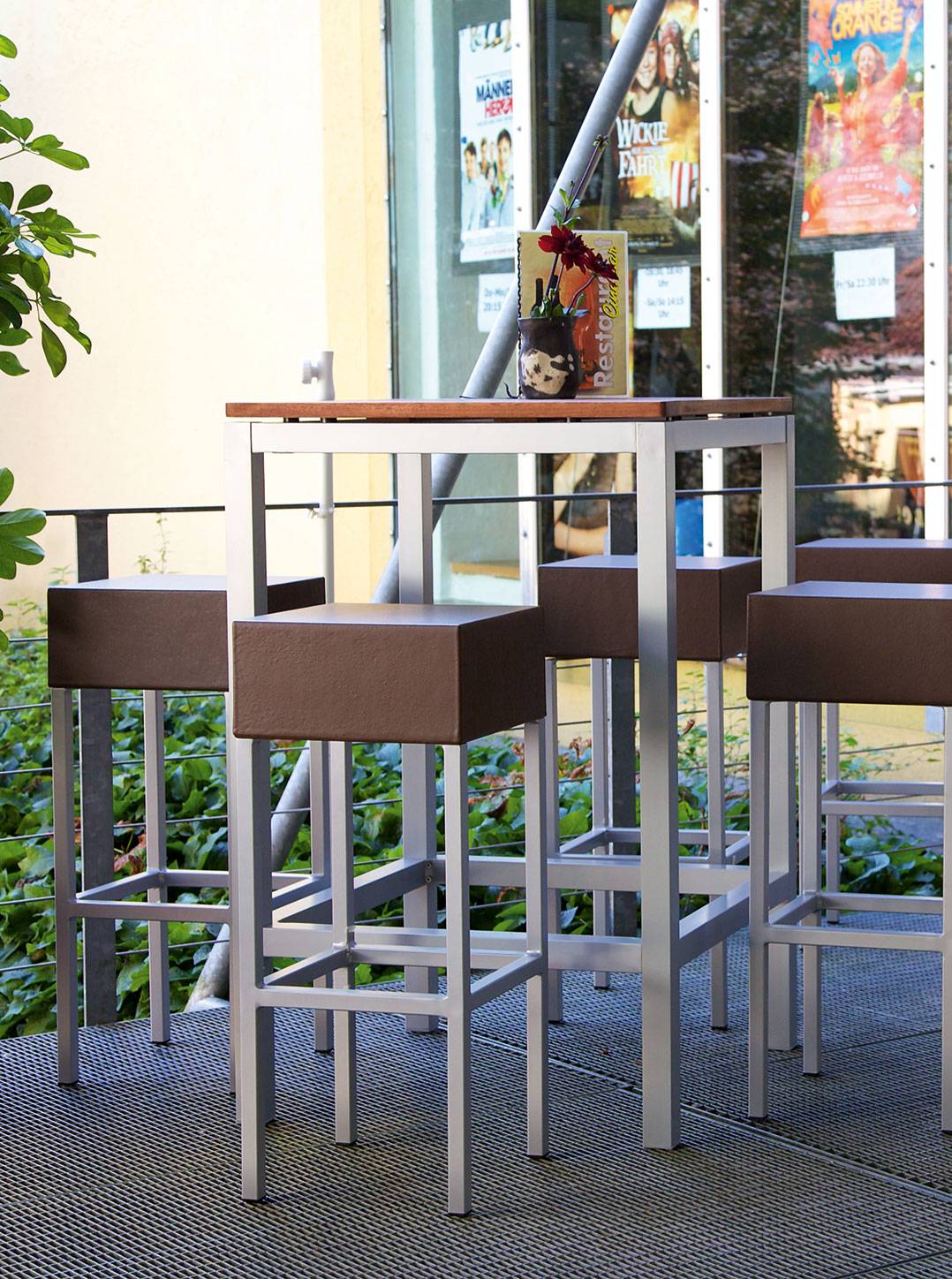 We are service partner