Terrace chairs for the food service industry and hotels in the GO IN shop – inviting and cosy
A terrace should invite guests to linger and attract them from afar with a comfortable and stylish look. Discover the varied design options for GO IN outdoor furniture and bring the summer into your restaurant!
What materials are suitable for the terrace?
No limits are imposed on the materials for the terrace chairs! Choose between plastic, wooden, woven, wickerwork or metal chairs and create customised chairs for the outdoor area with seat covers of your choice. A combination of materials is particularly sought after for outdoor furniture. This enables you to create a relaxed and casual atmosphere. The practical online configurator gives you the option of putting together your terrace chairs yourself and determining the colour and shape of possible seat cushions. Do not worry about the material properties! We will not leave you out in the cold, as all the terrace chairs are equipped for any weather. No matter which material you choose, our outdoor furniture can be used flexibly outdoors and is weather-resistant. Even the freely selectable seat cushions chosen by you are water-repellent and do not, therefore, have to be rushed indoors when the first drop of rain falls.
Terrace chairs well combined!
When choosing a chair, you should always pay attention to a harmonious overall image between the table and chair combinations and the overall environment. The table and chair do not have to be made from the same material in order to provide a harmonious image. For example, modern and unusual plastic chairs can be stylishly combined with wooden or metal tables. Depending on the style of your outdoor area, different models of chair are available as the perfect seating option.
You would like to create a cosy atmosphere and win your guests' hearts with an extraordinary design which will remain in their memory? Be just as flexible in your selection as the GO IN terrace chairs and decide what really goes with the style of your location!
Resysta – 100 % wood-free; 100 % environmentally friendly
Be impressed by an innovative idea which has been successfully put into practice with the help of competent specialists. Resysta is a hybrid material which can hardly be distinguished from real tropical wood in terms of its feel and its appearance. Its special feature is the composition of its contents:
Approx. 60 % rice husks
Approx. 22 % rock salt
Approx. 18 % mineral oil
Therefore, not a single tree is required for its production. The special product is not only characterised by its environmentally friendly properties. The material is perfectly suited for use outdoors and leaves conventional terrace chairs out in the cold. Whether it is sun, rain, salt water or heat, Resysta is developed for all weather conditions and is robust and weather-resistant at the same time. Equip your outdoor area or your cosy indoor wellness area by the hotel pool with that certain something and impress your guests with the hybrid material which is one step ahead of us. A terrace chair made from Resysta remains indestructible – no splinters, fading of the colour or swelling and no pest infestation. Nevertheless, the material is up to 100 % recyclable. With easy-care and expressive terrace chairs, create a terrace which invites guests to linger. Become the designer of your own furniture in just a few steps at GO IN!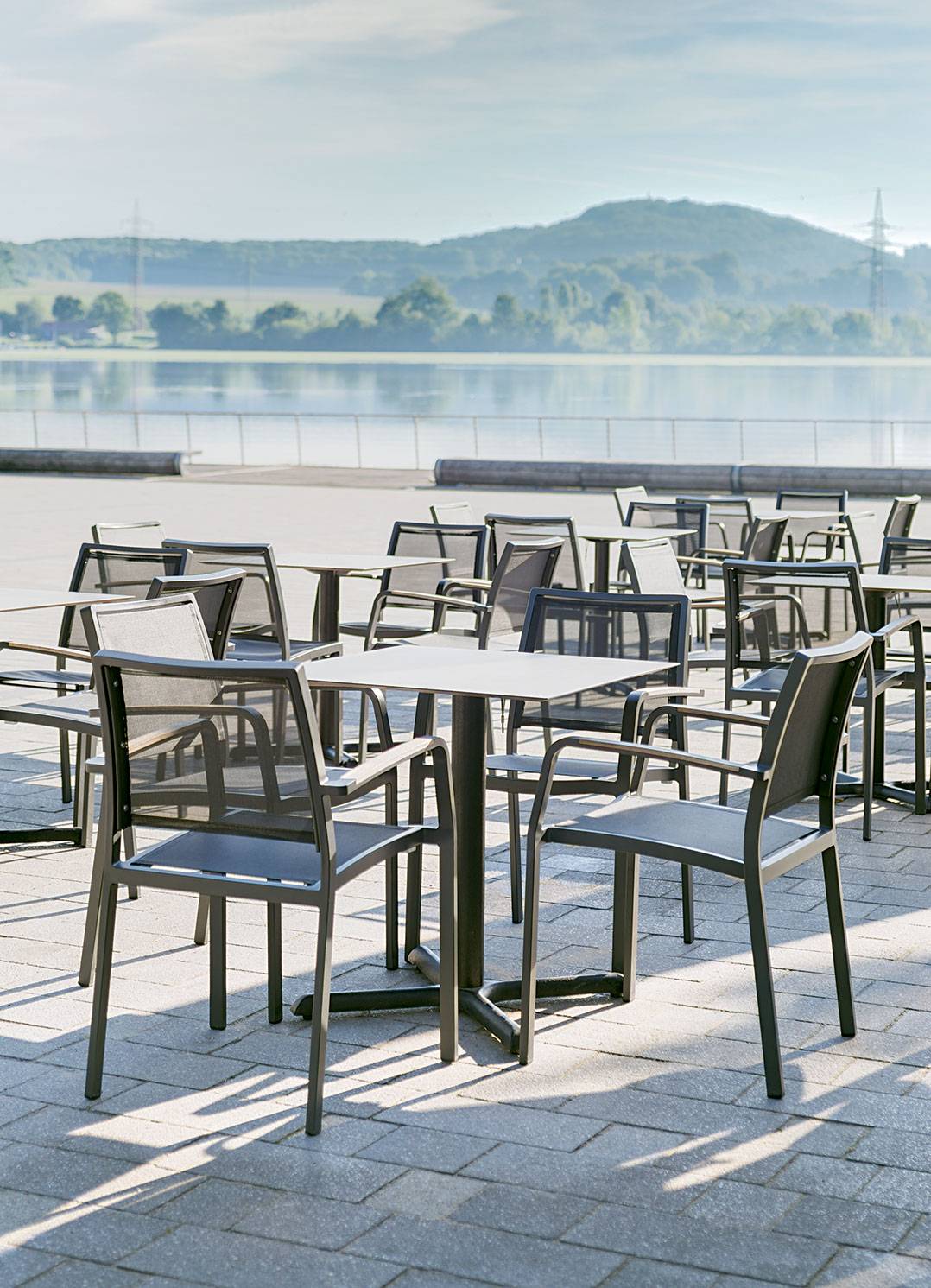 We are service partner