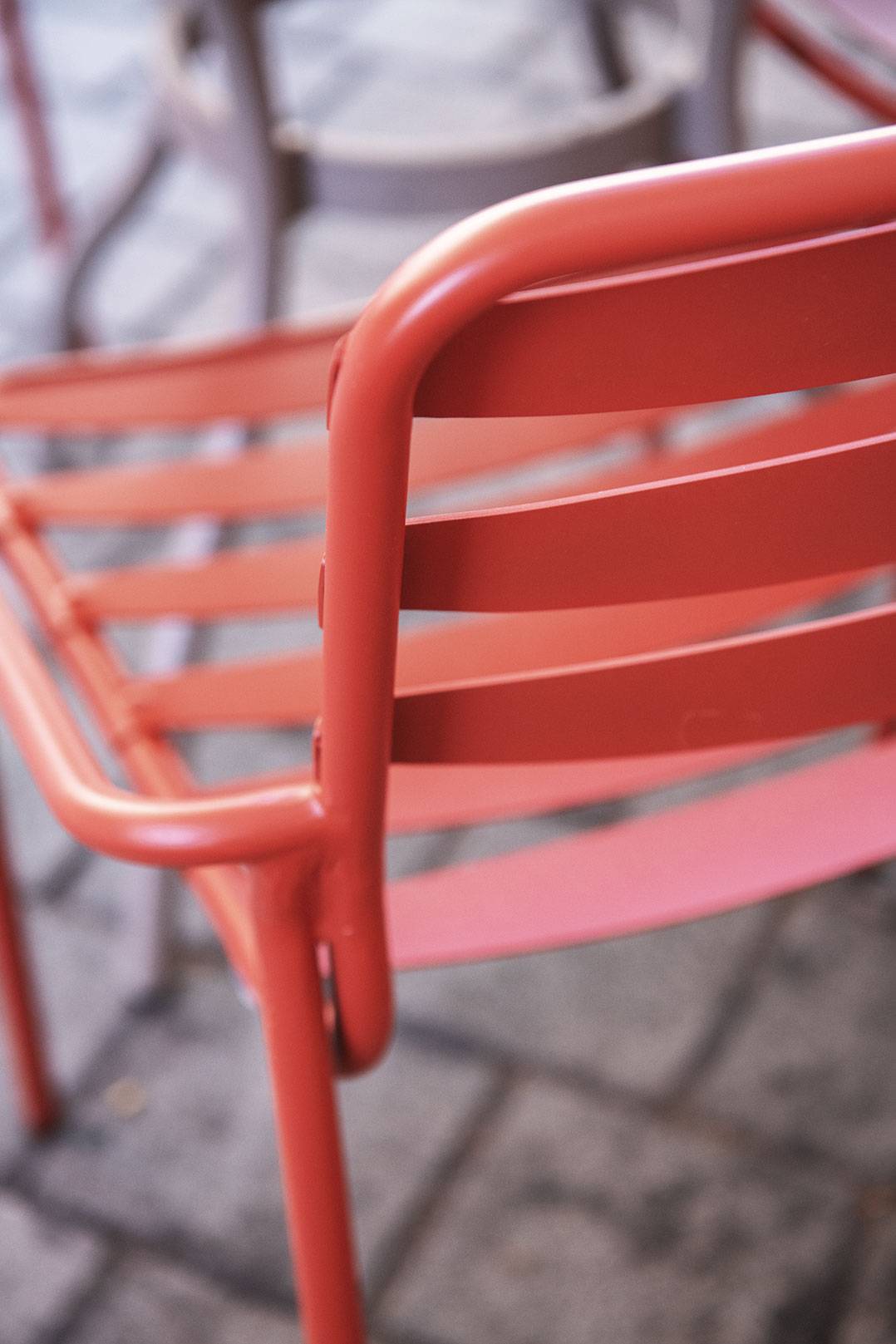 Metal chairs for the food service industry and hotels – long live the metal chair!
Metal chairs have versatile uses in the food service industry and the hotel sector. Thanks to their powder-coated surface, metal chairs are perfect for outdoor use – they competently resist poor weather conditions. In the GO IN online shop, you can discover delicate shapes which will conjure up a modern bistro atmosphere onto your terrace or into your dining area.
Aluminium for indoors and outdoors
Our chairs are made exclusively from high-quality aluminium and are, therefore, particularly robust. Enjoy the small luxury of simply being able to leave the chairs outside without having to cover up all the sets of tables and chairs after closing time to protect them from a rainy night. Worrying about the perfect weather will soon be a thing of the past. Simply make use of the first rays of sun and attract your guests with inviting seating and an outdoor area with a pleasant design. On warm summer days, you can provide welcome refreshment in the form of a shady seat and cool drinks. With a large sunshade, invite your guests to enjoy moments of relaxation.
Just mix it! The combination of metals skilfully provides accents
Bring a breath of fresh air to your premises! Out with the run down, old sofa and in with GO IN's modern metal chairs which exude cosiness. Make more out of simple metal furniture and discover how harmoniously metal can be combined with other materials. The perfect interior design style for an exciting combination of materials is industrial chic. Allow yourself to be swept away by old shapes combined with new trends, and design your property with industrial details which can be perfectly rediscovered in the furniture. Extraordinary is IN and intentionally makes your property stand out. The classic wooden chair with metal legs fits perfectly into the industrial look and, at the same time, serves as a cosy seat which invites guests to linger.
Another option for playing with different materials is the classics of the '50s and '60s. Chrome-plated table and chair legs, combined with casual imitation leather covers, will transform your promises into a traditional American diner in an instant. Metal chairs and bar stools will become stylish eye-catchers. Choose between the following metal options:
chrome-plated

matt brushed stainless steel

polished aluminium

black, matt, powder-coated steel 
An all-round service guarantees simple order processing
We not only provide a fast express dispatch service, but are also happy to help you with the assembly and with the selection of the correct materials and colours. To ensure that the furniture which you have created fits into the rest of your interior design, you can simply request samples and see for yourself on site. You can, for example, receive the following samples:
sections of table tops

fabric samples

leather samples

imitation leather samples
We are service partner