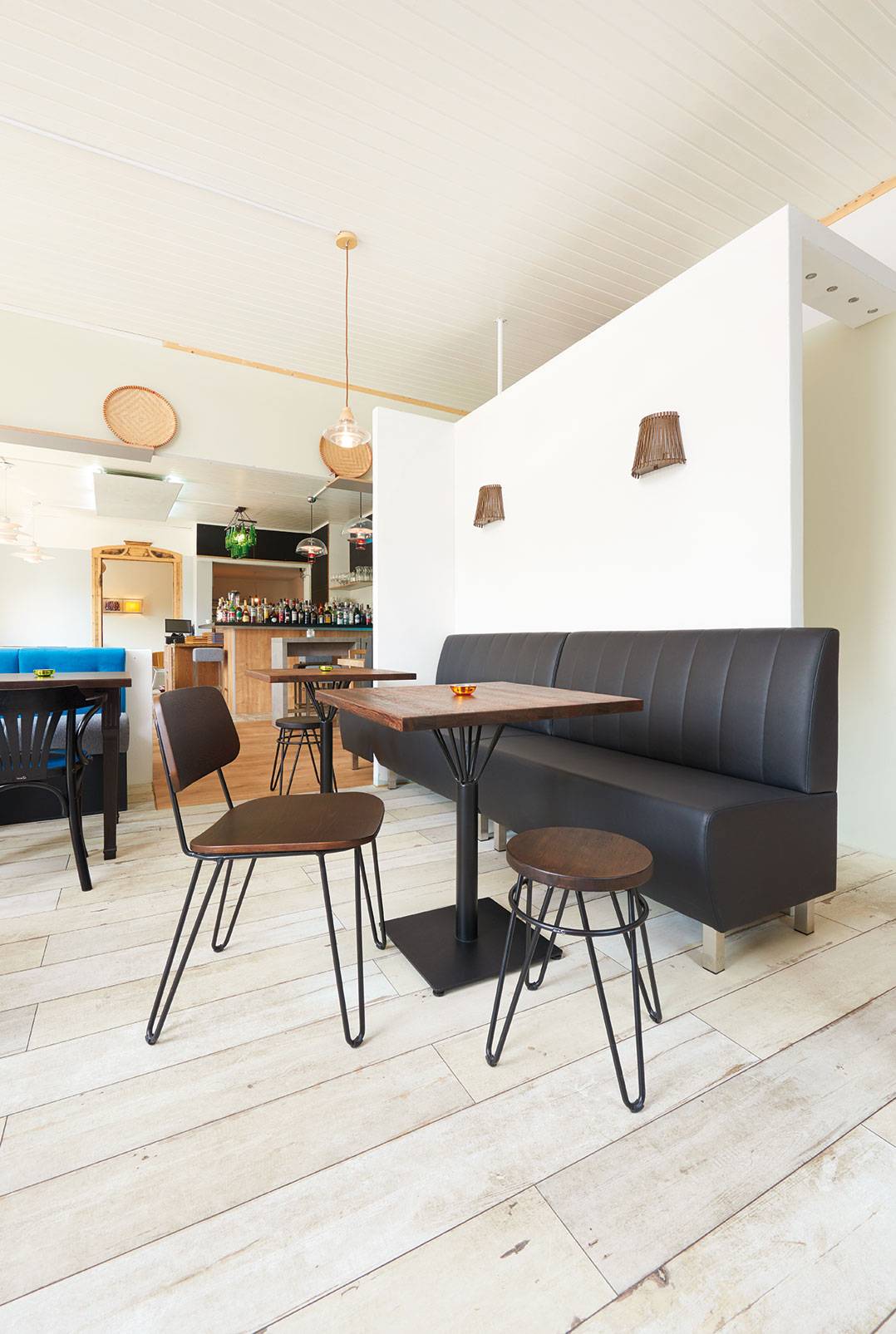 Bistro tables for cafés, bars and restaurants
Would you like to bring more charm, atmosphere or a new style to your café or bistro? Upgrade your establishment with GO IN's high-quality bistro tables. The design of our café tables ranges from simple and cool or classy and elegant to rustic and relaxed. We still offer a number of different surface structures and materials, which you can select according to your personal taste. We impose no limits on your creativity! The new bistro tables will give your café, restaurant or bar a new lustre, and the furnishings which fit in with your interior design style will impress your guests.
Un café au lait, s'il vous plaît! Bring the charm of the bistro back to life!
The bistro originally comes from France and became a flourishing business model in the food service sector in the 1950s, in particular. Bistros generally have a rather simple interior design style and just a small menu which offers small snacks rather than larger dishes. Bistros are particularly popular for their cosy charm and invite guests to linger. Give your bistro the perfect touch and design bistro tables which fit into your personal style with GO IN. The modular system means that you can easily put a table together according to the modular principle. Decide upon the table frame and the table top and, at the same time, choose the colour and the materials. You can do this in just a few steps with the online configurator.
For the table column and the table base, choose between wood, cast iron, steel and aluminium. You can also combine the table top with the lower section as you wish. The choice is huge: wood, high-quality artificial wood, laminate coating, natural stone and glass are available for selection. You can decide whether you would like to stick to the classically simple style of a French bistro or whether you wish to break from tradition and reinvent a bistro with your own personal style.
GO IN will help you to achieve the perfect bistro table – regardless of which style you want to realise!
Our service guarantees a stress-free process
Keep calm, even during a stressful period. Our all-round service will look after the delivery, the assembly and the disposal of the packaging materials for you. Therefore, you can simply take care of the essentials and we will take care of the rest.
Be on the safe side – samples
When you are furnishing your bistro, café, lounge, pub or restaurant you should not be faced with unexpected surprises. This is why we offer you a product and material sample dispatch service. We are happy to send you individual pieces of furniture with no shipping and packaging costs, so that you can assess the materials selected directly on site. You can send these samples back within four weeks – you bear the costs for the return shipment. You can receive material samples, such as sections of table tops or fabric and leather samples, free of charge.
Hurry now! Our express delivery service
Sometimes things have to happen quickly. Our express delivery service takes a maximum of 2 working days in Germany. If we have to reach you in Austria, the delivery period will be approx. 3 days. Deliveries can be made to France and Switzerland within 4 days. If you are really in a hurry, we also offer the option of collecting the products yourself from our headquarters in Landsberg am Lech. You will find your products there immediately after payment has been received. Lean back and relax, and enjoy the punctual opening of your bistro – where you can receive your guests at the bistro tables which you have designed yourselves and spoil them with wonderfully delicious snacks.
We are service partner