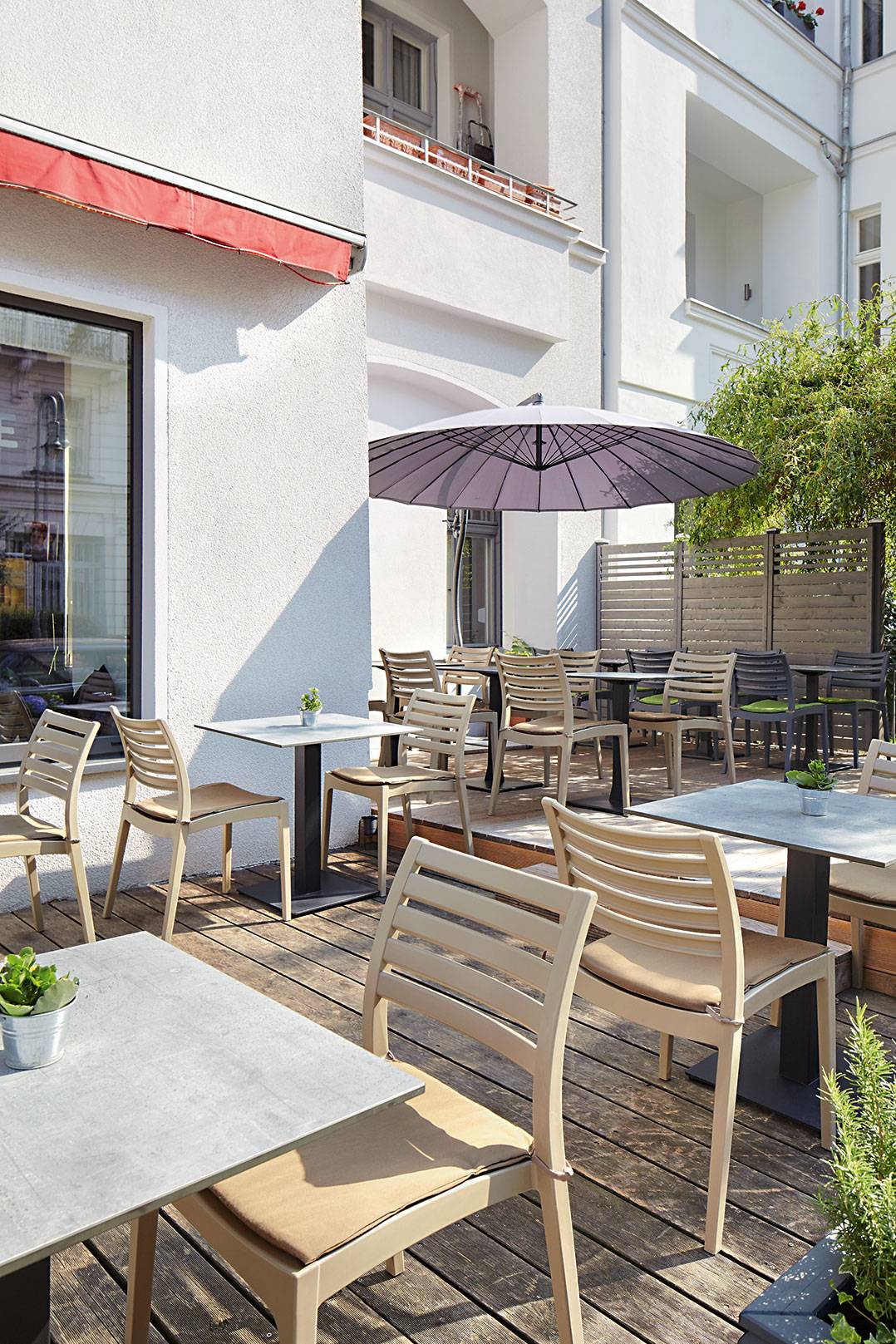 Plastic chairs for the food service industry and hotels – simple and light
The classic plastic chair from former times – with four wobbly legs, it is frequently broken in two and its colour is bleached by the sunlight. A classic amongst plastic chairs is now being replaced by stylish designer chairs which can do more than just look good. Benefit from their delicate design and the practical handling.
Flexible seating option for indoors and outdoors
Plastic chairs are light and can, therefore, be moved around quickly and adapted to the respective number of guests. GO IN is responding to the requirements of restaurateurs and hoteliers and thus is paying particular attention to the robustness and handling of the furniture. Plastic chairs have the advantage that they can be used either indoors or outdoors. This means that you can furnish the indoor and outdoor area with the same furniture without any problems and will find it very easy to create a harmonious overall image.
Especially in pedestrian zones, it is generally difficult for the guests to work out which chairs go with which restaurant and dining area. If you have the same chairs outdoors as indoors, your outdoor and garden area is instantly recognisable and you can give it a completely personal touch. Specify the colour, design and the individual seat cushions which provide even more comfort.
Multicoloured or simple and elegant? Design your plastic chairs with GO IN
With our online configurator, you can combine the colour and optional seat cushions with one another. We only provide weather-resistant options which can withstand wind and weather.
Be impressed by Scandinavian design, for example. With an integrated seat cushion, you will ensure a comfortable seat which may get wet without any adverse effects and can thus survive any rain shower unscathed. You can choose between a variety of models which can effortlessly be combined with one another and which dispense with strict and identical seating. The plastic chairs are coordinated and can easily be stacked, in spite of their different shapes.
Create a relaxed atmosphere with plastic chairs
Small rooms which are furnished with heavy furniture often give a feeling of confinement and discomfort. The waiters also have to struggle with paths which are too narrow. The light design of our plastic chairs brings a stylish look. Unusual shapes are really eye-catching. Create a little trademark with a special kind of seating which will stay in your guests' memory. Select a matching table that goes with the colours of the chairs.
No ideas yet? Then allow yourself to be inspired by our showrooms!
Discover the one million design options live and in colour! With their large selection of exhibits, the showrooms in Landsberg am Lech, Paris and Vienna do not promise too much! Get creative ideas from our professional interior designers and find the best combination of chairs and tables for your restaurant. See the pleasant feel and unusual designs of our stackable plastic chairs for yourself. GO IN can help you to give your bar, your bistro, your café, your restaurant or your hotel an individual and personal touch when it comes to stylish and high-quality furniture.
We are service partner