Campus am See
Location: Seefeld, Germany | Category: Seminar & Conference
With light-flooded and modern premises, the Campus am See offers the optimal framework conditions for systemic coaching training to become a business & personal coach as well as modular further training. Take a seat and learn - the comfortable Tuya bench system with its high backrest invites you to do so. Quick change of seat? No problem at all. The stylish Panora stool cuts a fine figure in any location. Important documents can easily be placed on the Yago stool. This also functions wonderfully as a practical coffee table.
Photos: Felix Baab for Campus am See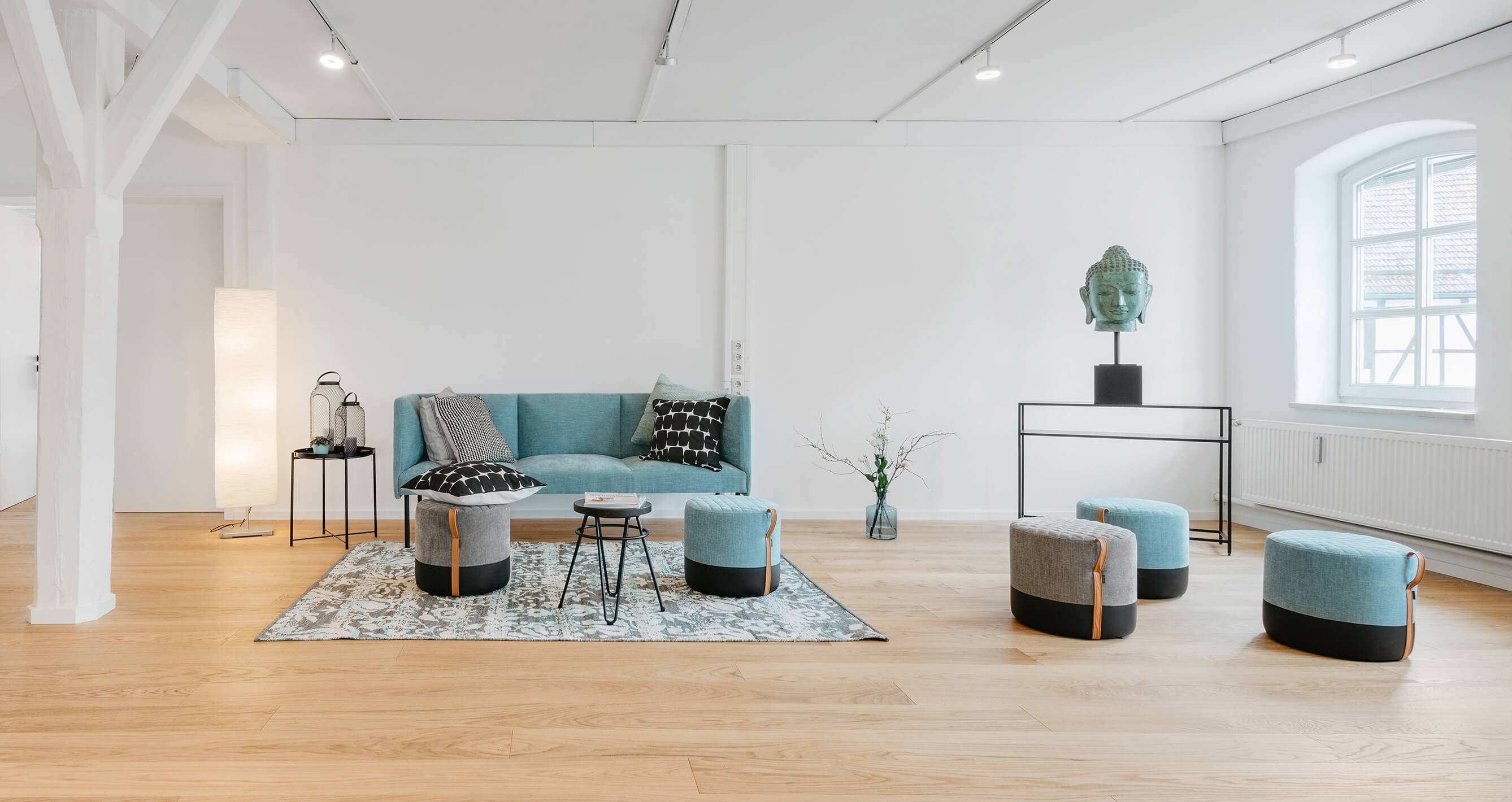 The cambered surfaces on the backrest, armrests and seats give TUYA its special character. This makes TUYA an eye-catcher in any ambience. The fine workmanship of the upholstery, which testifies to a high level of skill, also rounds off the high-quality overall picture in detail. The black powder-coated steel feet are very robust and stable. Due to the high-quality moulded foam, TUYA has good ergonomics. TUYA is available as an armchair, a 2-seater and a 3-seater. All three versions are offered with a low back; in addition, only the 3-seater is offered with a high back. Its high back creates a discreet atmosphere for guests and at the same time serves to reduce sound, creating a pleasant feeling of space for a longer stay.
Soft and comfortable, the stool Panora has a sturdy wooden substructure, which impresses with its stitched seat and a cognac-coloured leather carry strap. Panora is upholstered with fabric Minea and is available in grey, brown or light blue; The lower part of the stool is always upholstered with black artificial leather. The retro design of the Yago chair is retained and complemented by the upholstery on the seat and the backrest. With its frame made of matt black powder-coated steel and its coloured cushions, Yago P fits into modern food service establishments, as well as waiting areas and company restaurants. The entire GO IN fabric concept, including imitation leather and leather, is available for selection of the cover. The model Teona is a real trendsetter with its strikingly narrow tubular frame made of black powder-coated steel. Seat and back are upholstered in artificial leather Berat in dark brown or in the velvety fabric Cosy- available in dark blue or bordeaux.
Cary Buraty
Entrepreneur Cary Buraty has been an executive coach and mentor for over 15 years and has trained approximately 400 systemic coaches. She is also the managing partner of the strategy consultancy CHANGEsupport, which accompanies accompanies companies in complex change and digitalization processes. She sees herself as a coach for coaches. Her mission: to enable people with systemic ways of thinking and working to make the decisive, positive difference in their personal or professional environment to make the decisive, positive difference.
We are service partner